Photoset reblogged from FuckYeah CafeRacer by Gege with 153 notes
I'm really liking the use of colours in this build. Whether you like it or not, the builder has put a lot of thought into getting the lines spot on, balancing the maroon front and rear, the wheels, petrol cap etc.
Source: triumphbikes
Photo with 181 notes
This 1967 500cc #triumph #motorcycle is for sale in Perth for 4k by @sideshowcycles . Hit Tom up if you're interested. That's one #groovyseat
Photoset with 537 notes
Have you seen these amazing collages by Mario Spinelli ARTI57A ?
Source: facebook.com
Photo with 240 notes
Damn nice Triumph Scrambler by 811 Custom Motorcycles
Video reblogged from Thick Frames with 107 notes
Raise the dust - TEASER
Gotta get me a scrambler!
Post with 8 notes
Hi there, like your site, great builds! I built this 68 t120r about 3 years ago. I had been collecting stuff for 10 years or so, and finally put the build in rotation. Finally a bike for me!  I made the axles, spacers, frame, handlebars, front end, oil tank, foot controls, pretty much everything. My pals at Noshame, 47industries, Special79, and Terry Parker all contributed their skills and Brandon Penserini did the 8-point show quality paint job. As always my homies billyd (hellmutts) and roach helped out in the shop. thanks for looking! - NATE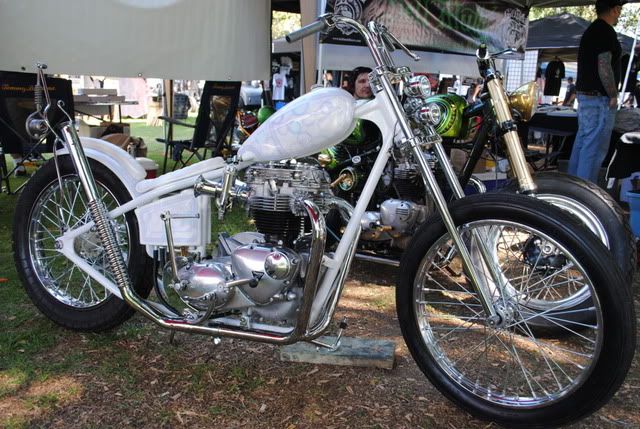 Thanks for submitting this Nate. It's not really the type of bike I feature but I can appreciate the quality work and the paint looks damn good even in this dodgy pic. I'd happily feature some of the detail if you could shoot me through some good pics mate.
Photo with 126 notes
Saw this beauty on the Ottonero blog and couldn't go past it.
Photo with 109 notes
Taking a photo of @tevilspek taking a photo of Lee's #triumph #thruxton #streettracker #caferacer hybrid. #GPM12 #McClane
Photo with 186 notes
At a late morning photoshoot with the latest #garageprojectcreation. @tevilspek taking the pro pics and I'm using the phone. Will upload the phone pics to Facebook today. #triumph #thruxton #streettracker @brad_garageprojectmotorcycles @gauthjay @daleyam650