Photo with 108 notes
Saw these design concepts on the racing cafe blog.
Source: racingcafe.blogspot.com.au
Photoset with 210 notes
I like it when I put the call out for people who want to show off their bikes and people like Stefano send me pics of their first custom bike. Sure you've seen this bike on heaps of other blogs but Stefano says the pics above haven't been published anywhere else.
Venier Customs have a number of bikes under construction at the moment and I for one can't wait to see what they can come up with. Especially if the Moto Guzzi V35 above is representative of the quality of work we can expect.
They have a facebook page that is worth checking out too.
After you've checked them out, feel free to like us :)
Photo with 19 notes
When I saw this bike, I thought it was a honda with Guzzi bodywork. I was surprised when I found out it is actually a Guzzi.
I came across this bike when the guys over at Remastered Cycle & Co sent me a link to their Kwaka scrambler and asked if I wanted to feature it but I prefered this mild Guzzi custom.
There are more pics of this nice little bike here
Source: remasteredcycle.com
Photo with 77 notes
Beautiful red Moto Guzzi 850 T3. More pics here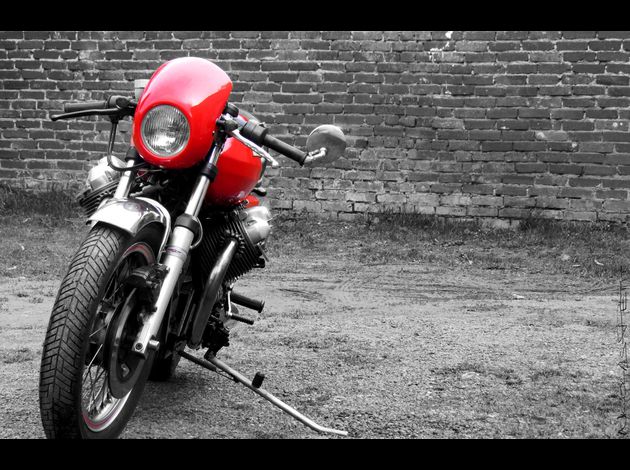 Photo with 111 notes
This is Moto di Ferro's first custom bike. A Moto Guzzi Street Tracker
I think I'll add a street tracker to the garage before the year is out. Love what these guys have done with this.
Like us on FB
Source: motodiferro.it
Photo with 111 notes
If I was to do a top 10 custom Moto Guzzi list, this Officine RossoPuro SP1000 would be on it. What Guzzi's would you include in the list?
Like us on FB
Source: facebook.com
Photoset reblogged from Habermann & Sons Classic Motorcycle Clothiers with 122 notes
Do you like MOTO GUZZI?
Go get yourself some Guzzi gear from habermannandsons
Like us on FB
Photo with 33 notes
I don't need a reason to post this do I ?
Like us on FB