Photo with 68 notes
Posted a HD Cafe Racer that was submitted and asked if anyone knew anything about it. BAM….Brian submits a couple of links and I found a few more pics of the bike. Cheers Brian.
Photo with 53 notes
Someone submitted this picture, no info, just the pic.
Looks ok, thought I'd post it. Looks like a fairly tight HD cafe to me.
Anyone got any info on it?
Photo with 110 notes
People seemed to like the clean Harley bobber the other day so I present to you a very clean Harley Brat / Tracker.
Have you got some clean examples of Harleys you'd like to share?
Photo with 140 notes
It's not often you see a Harley that has been cafe'd this well.
It's not perfect though. Put smaller chrome clocks on it, lose the studs on the seat and the Vincent style logo on the tank and finally swap the "oooh so scary" skull for a Panda with guns and it would be perfect.
Photo reblogged from A Man of Straw with 586 notes
Sooo simple, sooo clean and sooo sexy.
Source: twowheeledtransportation
Photo with 182 notes
Josh said he wanted to cover his CX500 street tracker seat in red. I thought it'd look crap.
I was wrong.
"KICKER" EVO SPORTSTER by MB Cycles

Source: mbcycles.de
Photo with 116 notes
Bottpower get the delicate balance between function and form absolutely spot on.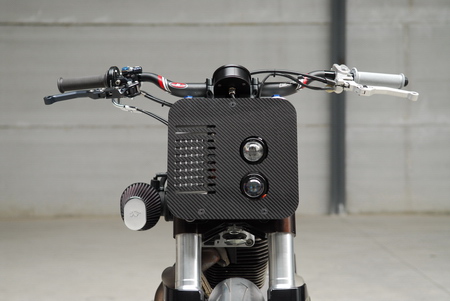 Photo with 108 notes
I don't use StumbleUpon much but when I do I find some good stuff.
The parts I don't like could easiy by fixed. Would be a sweet ride though.
Source: exilecycles.com
Photoset with 167 notes
When you think of custom Sporty's, the last place you'd think about is Thailand unless of course you like ladyboys and then you're probably trying to book your next flight there as you read this.
Anyway Aek isn't a ladyboy (maybe he is I didn't ask) but he is from Thailand. He sent me some pics of his Sportster which I absolutley love (the bike not the pics). Definitely one of my favourite Harleys ever.
And yes Aek, next time I'm in Thailand on "business" I expect to be shown the sights…
"Hi Rex,
I got this bike from stock Sportster Nightster not thing excited much as I see and bit boring with stock bike which look always the same, I decide to change to cafe style and scramble style as I have seen from Yamaha SR and Triumph, just want to make it more cool and different ;) ..HD was my dream when I was young. Just take about week to build and customized from Lek Service where we always visit with Rat friends and help to recommend.
If you have a chance to visit Thailand, for sure I can bring you to visit this place. I ride almost everyday, it depends. But it good to the traffic in downtown and weekend ride with friends ;) But if rainy season it's terrible ;(
Aek Pollawat (Aek)"
Photo with 90 notes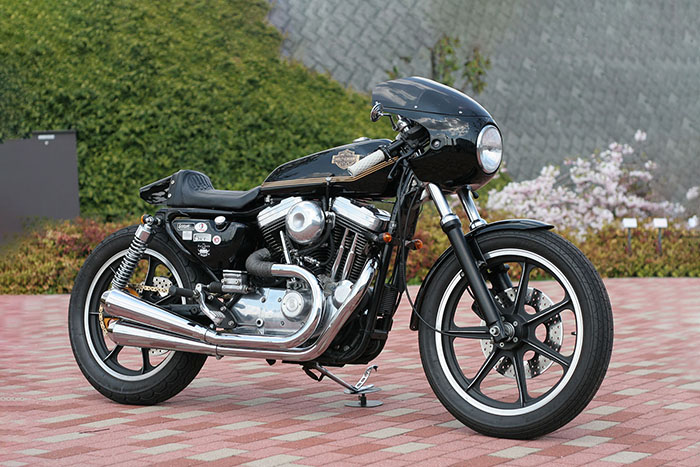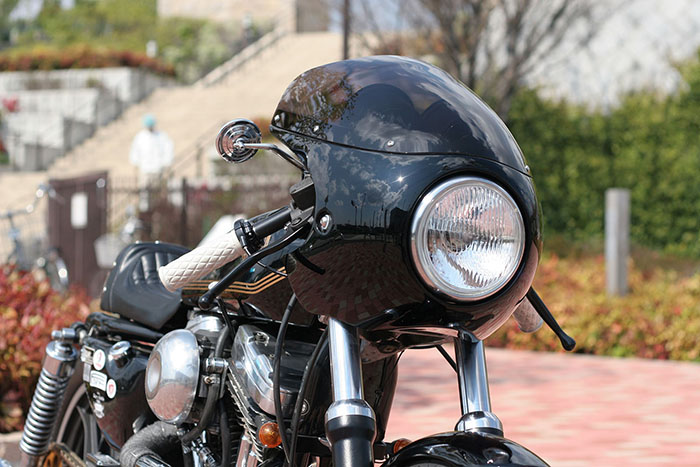 Source: goods-co.net