Photo with 44 notes
Looling at the pic above, I'm thinking that the seat looks too long but when I look at the photos below…
…I see that it is PERFECT!
Check out the full picture set at The Speed Merchant
Source: thespeedmerchant.net
Photo with 99 notes
Old School Thruxton
Photoset with 24 notes
More shots of Hand Made Vintage Kustoms bike show
Photoset with 36 notes
Some pics I took from the recent Hand Made Vintage Kustoms bike show in Malaga, Perth, WA
Photo with 44 notes
"SUPER RAT"
While undoubtedly a polarizing bike, you'd be hard pressed to find someone to critisize the craftsmanship.
You can just hear the commentators on Bike Exif now…
no fenders
no chain guard
no indicators
drum brakes etc
To me however this piece of rolling art is the epitome of a custom bike.
Obviously it's not a commuter, tourer or a race bike. It is however the perfect bike to take out on the weekend for a quick blat through the hills.
…after stopping at a cafe for a coffee and to let everyone get their phone cameras out of course!
Like us on FB
Photo with 42 notes
This photo was taken by Patrick Woodruff (a member of Sydney Cafe Racers) at the recent New York Motorcycle Show.
It's a Triumph of some sort, customised by Loaded Gun Customs.
Those brakes! That exhaust!
BRILLIANT
Like us on FB
Photo with 32 notes
There aren't too many things more stunning than a set of beautifully made set of pipes.
Some great photography by Chad DeRosa
Like us on FB
Source: derosaphotography.smugmug.com
Photo with 60 notes
When I first saw this photo of a modern Triumph customised in a Ratty Bobber style I had to post it as I thought it would cause a bit of consternation amongst the Triumphanista…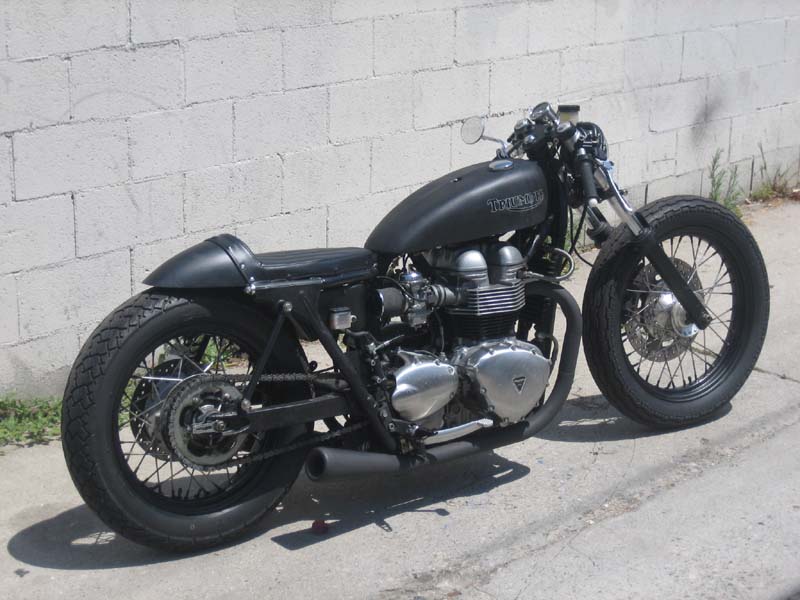 …and there is nothing I like more than pissing off modern Triumph owners.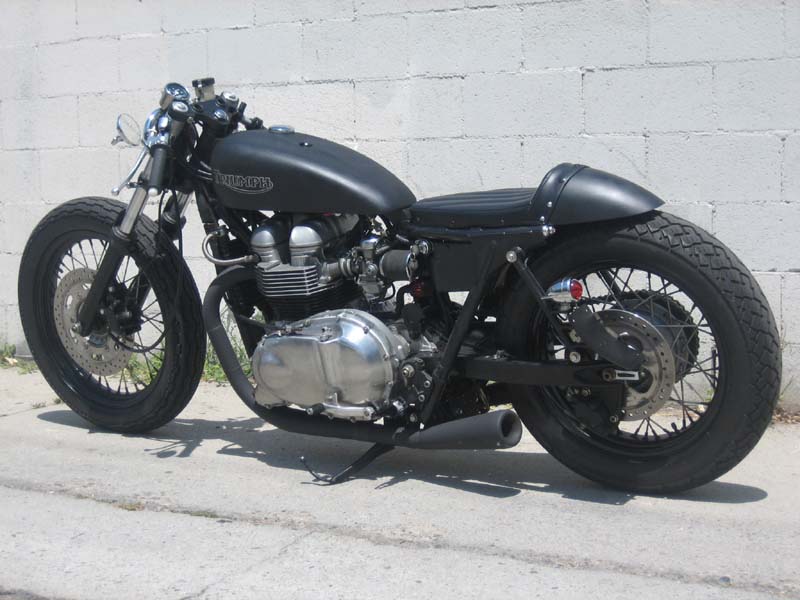 What do you reckon, do you like it?
Like us on FB
Source: garagecompany.com
Photo reblogged from brand new monster with 46 notes
Trumpets at Dawn.
Scott, what do you think of this?
Photo with 15 notes
Will you look at that exhaust!
Check out more pics of this beautiful build here
Like us on FB
Source: derosaphotography.com