Link with 6 notes
A new forum has started for Aussies with a love of Cafe Racers. Garage Project #5 will be featured in the project section soon, keep an eye out for it.
You can also use the Tapatalk app to keep up to date on your smart phone.
Like us on FB
Post with 36 notes
The Honda CX500, commonly called the Plastic Maggot (or "Clitoris" because every C%$T has one) was a favourite of couriers in Australia and the UK. Reliable it was, good looking it certainly wasn't.
They have always had a bit of a cult following and people have chopped them up and cafe'd them for years, mostly with disastrous results. It is probably one of the hardest bikes to customise into something that actually looks sexy. A few have managed to do it in my opinion, so here they are in my order of preference.
#6 - Tokyo Sauce CX500
With clips ons and minimal padding, this budget CX looks the goods. Not hard to throw a few extra pesos at it and hide the battery and take it up a notch if thats what you like. Me? I'll take it as it is.
#5 - Doc's Chops CX500 brat
Nice lines on this one and a great balance of black and silver. The drilled wheels make this bike.
#4 - Moto Mucci CX500
This CX hit the blogs big time last year and for good reason. If you want a CX to look good you have to get the seat right. Moto Mucci transformed the ugly duckling with a new take on the seat. This bike would be my #2 if he ditched the sidecovers.
#3 - Doc's Chops CX500 Cafe Racer
This CX just screams quality. It's not a mega budget build but it sure isn't a cheap transformation. A classic Cafe Racer seat can be made to work on a CX, this bike is the proof.
#2 - Rive Gauche Kustoms CX500 Street Tracker
With a gold engine and knobby tires, this bike is "out there" and won't appeal to everyone which is just fine as I'm sure the owner is having a ball ripping up the streets of Paris.
#1 - Wrench Monkees CX500
The oversized Firestones, the very clever angle of the exhaust, the lowered suspension, the bikini fairing and the sexiest seat this side of Chesterfield make this easily my number one CX500 custom. Congrats to the boys from Denmark.
Some honourable mentions that are under construction that will soon make this list a top 10
Make the jump and check out this brilliant Cafe Racer being built by Larry for "Eagle Driver" in the USA.
"Brock32" of Perth Street Bikes has finished his CX for now. Should be riding with us soon.
Richard Baybutt of Corpses of Hell is nearly finished his CX, here is a sneak peek. Might not look like much now but I've been sworn to secrecy on the more recent pics. Watch it light up the interweb soon.
So that makes 9, whose is the 10th?
Well, we're about to start a CX for a customer in Adelaide. Never been afraid to talk ourselves up, we reckon when we're done, it'll make the list :)
Photo with 39 notes
Kawasaki Z650
Was hanging around the project thread on PSB when I saw a new build thread from a new member - Chris, about his Z650. Never been interested in Z650's before but thought I'd click and have a look. Wow, nice build thread and nice pics!. I sent Chris a message and asked him a few questions.
Here you go, enjoy. (I've edited some of Chris' answers to improve the english)
Where are you from?
Austria, that small country in Europe :)

What is the story behind the bike before you bought it?
I dont know much about the bikes history. When I bought it I didn't know if the engine was running at all, all I knew was the bike hadn't been used for 12 years and was leaning against a wall in a garage waiting for me to come along :)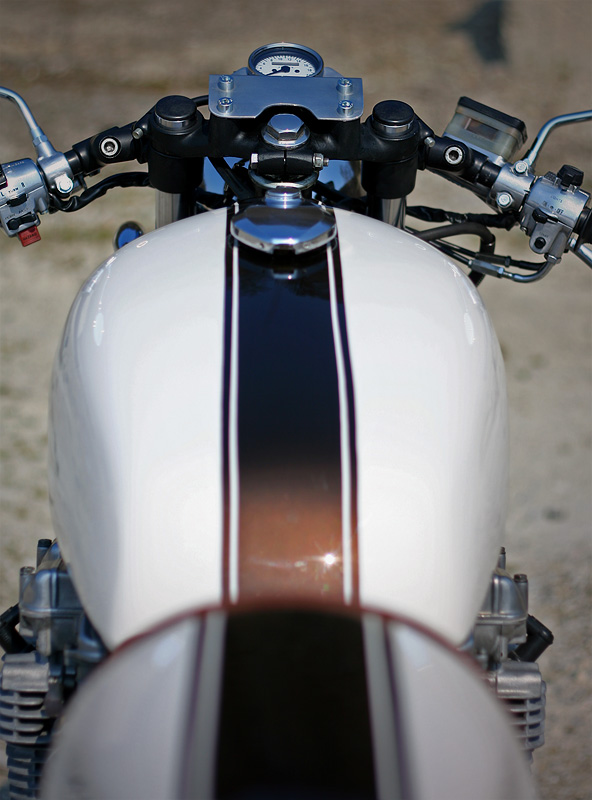 Where you looking for a project bike?
At the end of 2011 I saw the Movie: 'The Girl with the Dragon Tattoo' (in german: 'Verblendung') from Stieg Larsson with Rooney Mara as 'Lisbeth Salander'. In this movie, Lisbeth was riding a nice cafe racer. When I saw the bike, my heart began beating faster and I said to myself: yes - make it! Thats the reason why i was looking for a stock bike…

How much did you buy it for?
EUR 800,-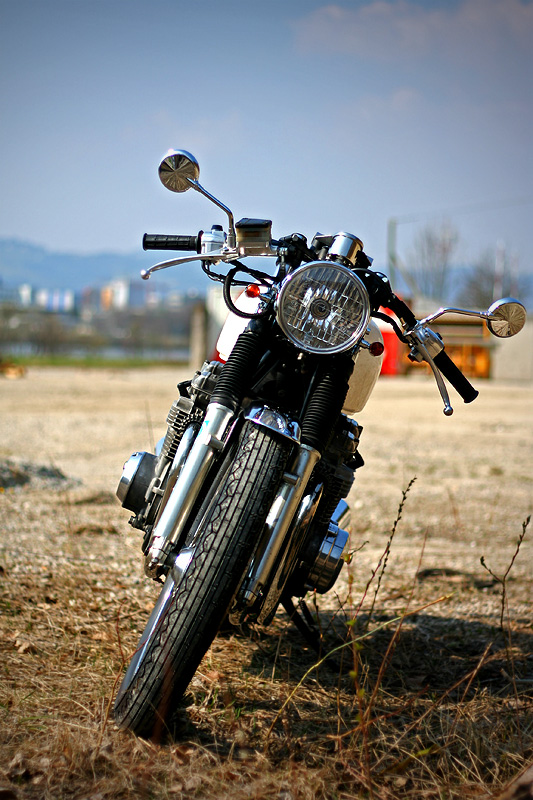 Did you start the build with a plan in mind?
I had a picture in my mind how the bike was going to look but I didnt have a strict plan or a 'To Do' - list as such.

Did it come out the same as the plan or did it change along the way?
If you build a bike there are always problems along the way. But it came out better than I saw it in my mind!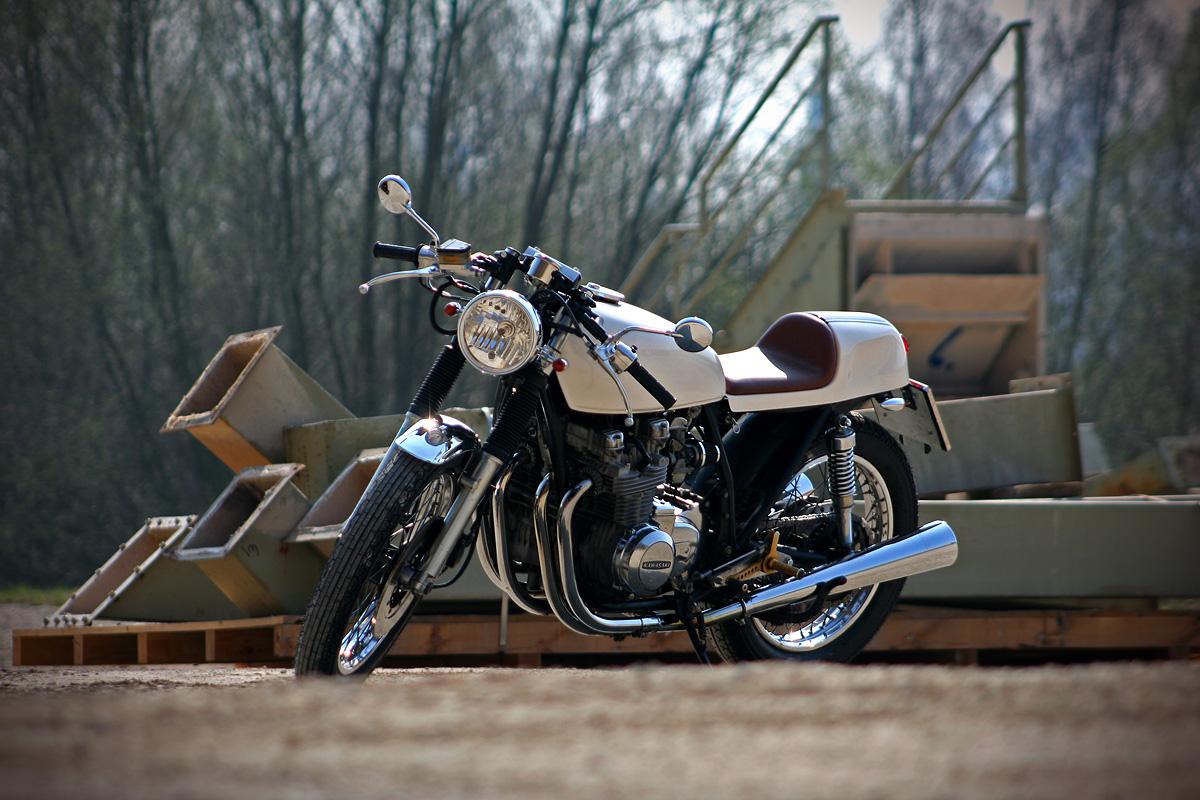 Why did you choose those colours?
I like colours that belong to our earth, like brown, green, sand etc, so when I first saw the awesome Marakesh-Brown on a BMW X1, I thought that I would someday make something using this colour. And this 'someday' came with the Z650

What parts of the build did you have other people do?
I nearly did all of the work, except painting the colour with the air brush, and doing the leather on the seat.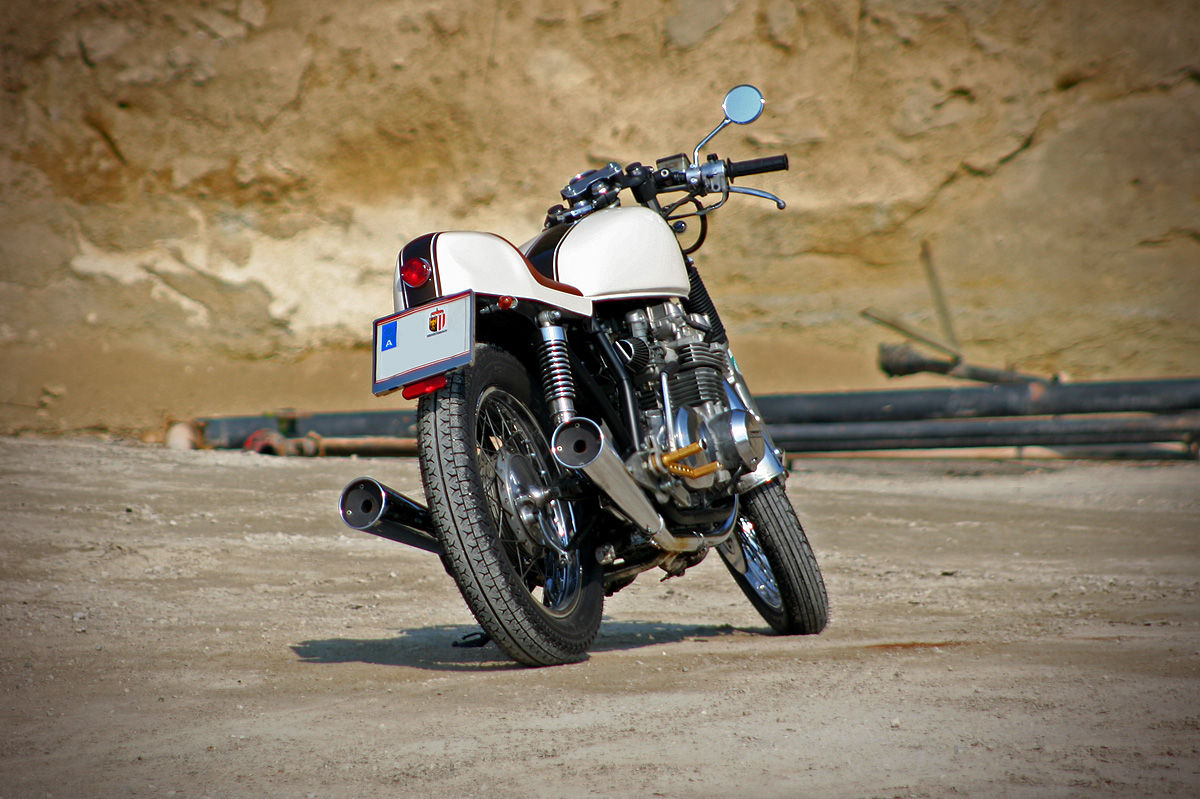 How much did you spend on the build?
Parts i needed were EUR 600,- so in total the whole bike cost just EUR 1400,- 

How long did it take?
About 150 hours. From the first february week till the end of march - so we can say 2 Months.

Which part of the build was the most enjoyable?
Putting the painted parts on the bike. This was the last big step before getting ready.
Which was the most satisfying part of the build?
When I started the engine for the first time and it was running fine and smooth.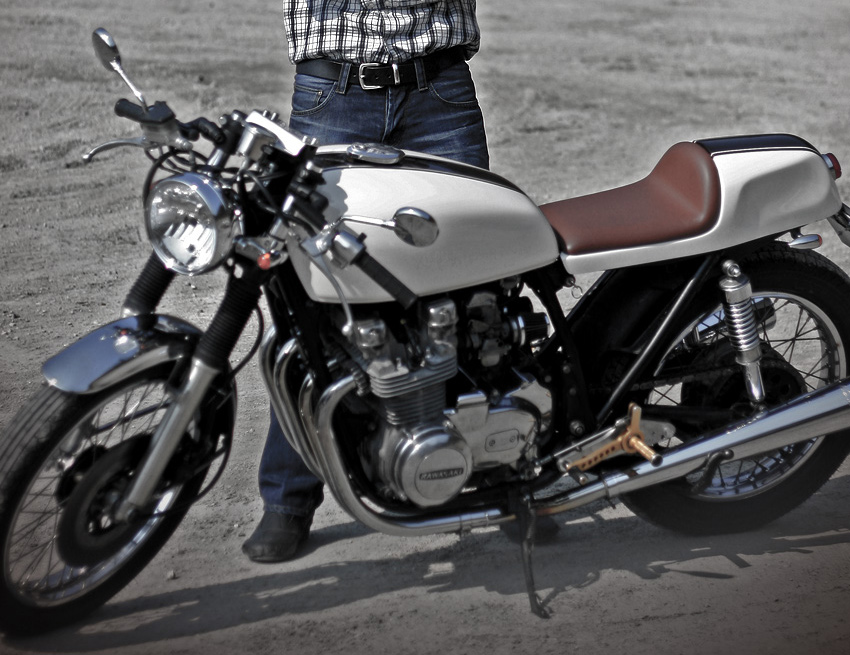 Will you keep the bike?
For sure :)

Are you thinking about building your next bike?
hmmm… not concrete but I want to have a scrambler too - But I think not this year, and dont tell it my wife!!

Do you want to see what the bike looked like before Chris worked his magic? Make the jump for all the pics.
Like us on FB
Photoset with 21 notes
Just finishing an exhaust for customers CB200.
Please don't pipe wrap it Nate!
Check us out on FB
Post with 4 notes
We are heading up to Yanchep National Park for the GOODFELLAS Hot Rod Show.
Meet at Kingsway Shopping Centre, cnr Hepburn Avenue and Wanneroo Road, Kingsway from 10am. Depart at 10.30am for a leisurely ride (with 200+ Hot Rods) North to Yanchep National Park and the historic Yanchep Inn.

We'll be the guys in the carpark on ….um….cafe racers.
If you want to come but don't have a ride, we have a loan bike - a fun little CB400f
It's yours for the day as long as you meet our strict guidelines
Return it with a full tank (petrol preferably)
You must have a current license
Ride it like you stole it
Agree to "You break it, you fix it" handshake
For more details you can check out Perth Cafe Racer Facebook page or Perth Street Bikes "In The Loop" section
Photo with 29 notes
Custom Yamaha SBK R1 on the Perth Street Bikes stand at the Perth Motorcycle and Scooter Show
Like us on FB
Photo with 15 notes
Ducati Paul Smart 1000 Limited Edition on the Perth Street Bikes stand at the Perth Motorcycle and Scooter Show
Like us on FB
Photo with 2 notes
Come down to the Perth Motorcycle & Scooter Show and see The Brat on the Perth Street Bikes Stand.
Open today, Saturday & Sunday.
Like us on FB
Post with 23 notes
Tomorrow is the unveiling of the eagerly anticipated 2011 Making A Difference bike launch.
Date: Saturday 24th September
Time: From 9am, unveiling approx 11am
Location: Causeway bike shops, Albany Hwy, Victoria Park
M.A.D. raise money and awareness for victims of spinal injuries. Currently our main beneficiary is Ward 11 Spinal Unit at Shenton Park Hospital. It's not a nice place for anybody to end up, so we do what we can to give a helping hand and make things just a little bit better.
I'll be down there selling tickets so look for the guy who looks like Matthew McConaughey and buy a couple of tickets off him. That won't help me because I look like Andrew Denton.
This is the 2010 bike that was raffled off..
and this was the amazing 2009 bike…
Source: madride.org