Audio post with 12 notes - Played 233 times
John Surtees 1960 Race bike. What a sound!
Did you know?
In 1958 and 1959, Surtees won every Motorcycle Grand Prix event he entered in the 350 cc and 500 cc classes.
Like us on FB
Photo with 66 notes
1977 MV Augusta Magni 750 (bored out to 860cc)
What is more beautiful, the pipes or the engine?
Like us on FB
Source: bikeexif.com
Post with 13 notes
You only needed one gear if you were on the first Perth Cafe Racer Run for 2012, held Sunday 9th Jan.
The roads were looong and straight and the only fun to be had was with the right hand, (much like when the wife is away).
Friday night and I thought it'd me and 5 other Perth Cafe Reprobates  Racers. Rock up to "The Lounge Room" at Guildford and there are 20 bikes there!
I really should have prepared for the ride. I get off the bike and order a long macchiato (I heard they were trendy). Meet all the new guys and promptly forgot all their names. I was too busy trying to work out how the hell we were going to get out of Guildford!
Hands shaken, coffees drunk, names forgotten and it was time to rumble Guildford's foundations to the ground. Not hard when you have a Victory Hammer and a Yamaha Warrior along for the ride!

We weren't the only ones taking our toys out for a spin.
We head out of Guildford and immediately get lost. One benefit of not having a group communication system is no one could hear me swearing. Eventually found our way to Toodyay Road and into top gear.
Don't be fooled by the above map East Coast Criminals. A Hayabusa could pop it into top gear and wind it open all the way to point B - Toodyay.
The only bike to get pinged for speeding on the last double points day of the holidays was an MV Augusta F4 at the back of the pack! The cop was decent enough to drop the speed 20km/h on the ticket down to 101km/h in a 90 zone…but come on man…the bike can do 300km/h+.
I forgot to explain the marking system so everybody just thought Geoff had broken down on his Ducati (as one does) at the turn off and followed me into Toodyay for petrol and a BS session.
A quick sprint into Northam for lunch saw us all with aching right hands. Again, don't be fooled by that map East Coast Carpetmunchers, you only needed one gear from Point B to Point C - Northam.

Hey, Northam Council, Christmas finished 2 weeks ago, take the decorations down!

Best Italian in Perth. True Story.
Time for Lunch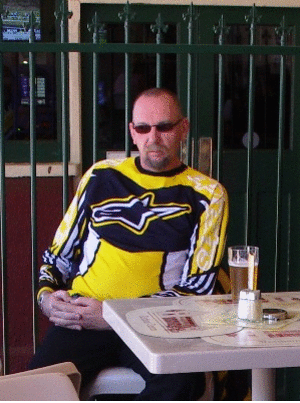 Stevo knockin'em back

A good steak sandwich at Northam Tavern could have been great. Who eats Processed cheese other than bogans and 5 year olds?
We left this lot and headed for York. How may gears do your reckon we needed?
That's right East Coast Coochies, just the one. Who needs the salt flats when you have Perth country roads eh!
Doing 18km/h and having someone pass you at 19km/h is fun, especially when your jacket zip gives up after the air catches it and it acts as a parachute. When we stopped and waited for the sportsbikes to arrive, I swear I could hear the engines begging for mercy. Hell, even a little Hyosung hit 16.1km/h and wasn't he happy!
York was closed, (of course it was, it was a Sunday. No Sunday trading here in WA) and it was 2pm and would be dark soon (no daylight saving here either. For some reason, people in WA like to have sunrise at 4:30am. They're freakin weird I tell ya) so we headed home nice an easy.
We clicked into top gear one last time and waved at the forward facing revenue raiser as we rode out of town. 
Want to see some GoPro video of the run? Sorry, I'm a numpty, all I've got is this pic of me turning my GoPro off.
Photo with 16 notes
Beautiful 2011 MV Augusta F4
Click for a wallpaper
Like us on FB
Source: motorcycle-usa.com
Audio post with 8 notes - Played 30 times
Listen to John Surtees as he races his dominant 1958 MV around the TT