Photoset with 225 notes
I liked it so much I posted the rest of the pics
Source: kerongrant.net
Photoset with 379 notes
It's so rare these days to be blown away by a custom bike. Usually my reaction to the latest release is "Yeh, not bad".
Certainly wasn't the case when I saw Keron Grant's CB750. As soon as I saw it I emailed him and asked permission to feature it to which he said "sure".
I didn't ask for a run down on the bike as I just want to look at it. I've featured some of Keron's art before and it always gets a great response. Looking at these pics it is evident that his creative juices are a little bit special.
A lot of thought has gone into this Japanese styled bike. Probably my favorite bike of the year so far. What about you?
Source: kerongrant.net
Photoset reblogged from **The life of an insomniac** with 109 notes
This is a typical Japanese build, deliberate patina, small modifications to the frame that no one notices, but at the end of the day it's perfect.
Gotta agree. They also wear great pants.
Photo with 92 notes
It's no secret I have a penchant for the bikes that come out of Japan. Here is another example of a W650 customised in the Japanese bobber style.
Built by Jet Custom Cycles
Photo with 153 notes
A different take on an SR400. One would have to adapt ones riding style with no front brake. I'm up for the challenge, who's with me?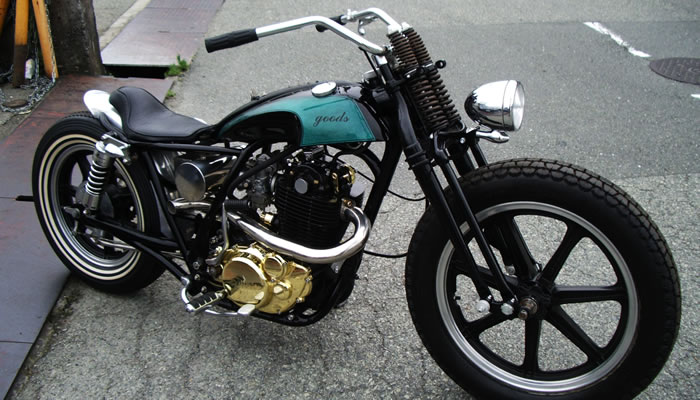 Photo with 63 notes
El Skitzo, a mate of mine alerted me to these pics on the No Future Tokyo blog. I don't know whats going on with the distorted photography but I know I love these bikes. Proves once again that Japan are light years in front of the rest of the customizing world.
Photo with 219 notes
Custom SR400 bobber by Flake
Like us on FB
Photo with 39 notes
A custom Yamaha XS250 bobber by Flake Motorcycles
Like us on FB
Photo with 40 notes
Another Flake custom SR400. Such a cool bike to just jump on and ride into the city.
Love this seat stitch design.
Like us on FB
Photo with 41 notes
An XS650 by Flakes Motorcycles out of Japan. The flatslides and the detail work set this aside from most custom jobs.
Like us on FB